Marketing Mastermind May
Title: Bart Baggett's Marketing Mastermind  for experts, counselors, and coaches
Date & Time of Class: Sunday May 20, MARCH 2018
India:  8:30pm Sunday Night.
This 2 hour class has been broken into three videos.
Video 1 :  How to convert a speech into leads.
Video 2:  Deep Case Study of Chris Lewin's free book offer and overall book marketing funnel
Video 3:  How to write copy on the free book offer website.  Steal this forumula.
This is video 2 of 3.
Please post your campaigns, ads, questions, and book covers on the Mastermind Facebook page as soon as possible.
This includes Chris from Australia.  We will review your campaign, even if you cannot attend live.  Wink.
https://www.facebook.com/groups/546035402133457/?ref=br_rs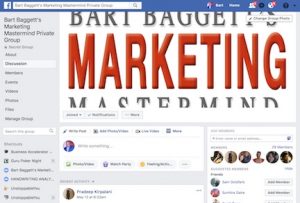 Sunday, 8:00am PST – / 11:00am EST – Marketing Mastermind 

India:  8:30pm
All times are listed in Pacific Standard time and Eastern Standard Time zones (USA). If you live
outside the USA, you must translate for yourself using this simple website: http://www.worldtimebuddy.com/
6pm in California (PST) is 6:30am in India and 7pm in Denver, CO.
Please submit your questions EARLY before each class using the private facebook group.
On each class, you will have the option of using the internet or Skype to listen in. Use that link to click through to video