Challenging Relationships and the Stinger in Handwriting.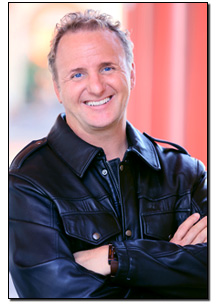 FEATURE STORY :
"Are You Constantly Getting Bored with your short-term Relationships?"
By Bart Baggett
President, Handwriting University
Why do some people always seem to fight in a relationship? Perhaps they are just looking for a challenge. You can see the trait relating to a need for a challenge called stingers in the d's, c's and a's of a person's handwriting.
What career would you find the most stinger's in an employee?  The answer may surprise you.
Why does the person with the stinger like someone playing hard to get? Listen to the 4 minute audio clip below to discover the answers. 
If you have this trait you may want to ask yourself why you need a challenge…all the time. You can always find someone to have a relationship with that challenges your intellect but if you tend to go for difficult, dangerous or problem people, it's a good idea to evaluate what drives this desire and eliminate any resentment you may have toward the opposite sex.
This video is part of the 17 section certification level traing course.  Want to see more videos like this?  Go here and enroll: https://handwritinguniversity.com/learn/hwcertco.html
If you can't explain the concept of a STINGER in handwriting, you simply should not be giving dating advice and  don't go on another date until you learn this very important trait which can destroy your soul.  Okay, I might be a bit overstating it here. LOL
In this above  1-minute video clip, we explain the stinger and graduate student Sharon uses the absolutely perfect metaphor you can steal next time you see this in someone's handwriting.
If you are dating someone with "stingers" in their handwriting…hold on…you may be in for a bumpy ride.
Just know that, ultimately, you can find healthy ways to fulfill your constant need for a challenge in your life and have a healthy relationship as well.
Listen to this segment from the Handwriting Analysis Certification Course as Bart and Curt Baggett discuss relationship compatibility, stingers and resentment.
You can refer to the "STINGERS" Graphodeck Card while listening to the audio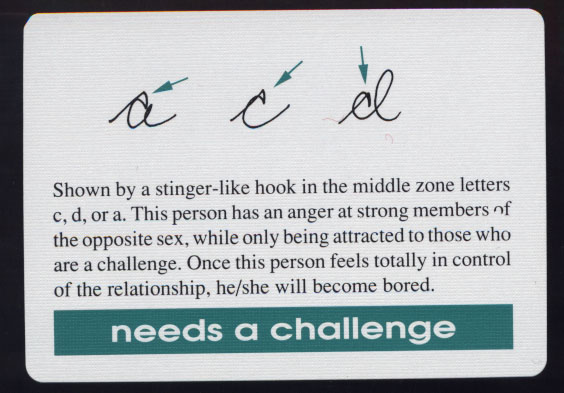 Listen Here to a 4 minute audio clip from a live seminar:

This audio clip is from a Handwriting University live seminar recorded in 2004. Classic conversation about the issues of the stinger in handwriting. 
Here is the latest more IN-DEPTH article on the stinger:
For more visit this link
https://handwritinguniversity.com/members/weekly-newsletters/a-bad-case-of-the-stinge
rs/
---
Quiz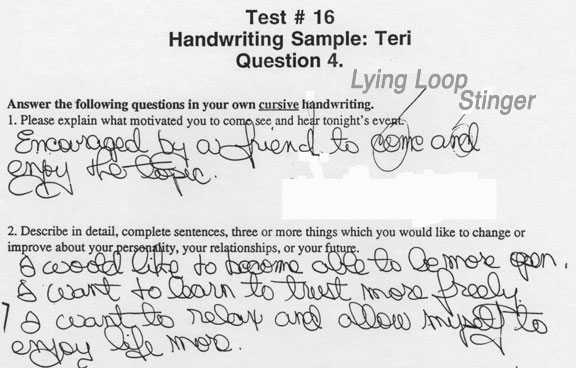 Can you find the 7 stingers in this sample of handwriting?
If you have "stingers" in your handwriting and want to work on this trait using the technique of Grapho-Therapy, I highly recommend the workbook Change Your Life, Change Your Handwriting! You'll be amazed at how simply changing a stroke can have a profound effect on your personality and your happiness.
Bonus Video from 2008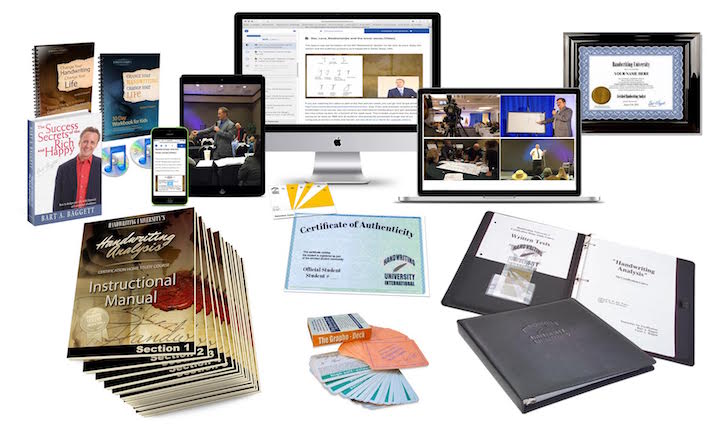 You can always learn more from our Home Study Courses about evaluating and combining traits. http://myhandwriting.com/order/catalog.html
STUDENT COMMENTS:
"My Handwriting Analysis Course has had the biggest impact on my life… it was the start of a life transformation. My self-esteem, confidence, creativity, and speed of learning have been dramatically strengthened. The results were quick and permanent. Oh, thank you so much for sharing this information.
I recommend it to people everywhere I go!"
– Lisa Marie Allen-Bitner
"I am very happy that I made this investment. I look forward to continuing my education with Handwriting University. The experience has been great, and enrolling in this program has been one of the smartest things I have ever done."
– Brenda Boelhower Student, Dayton, NJ