The 3 Step Customer Journey For Coaches and Consultants to Attract New Clients 24 Hours a Day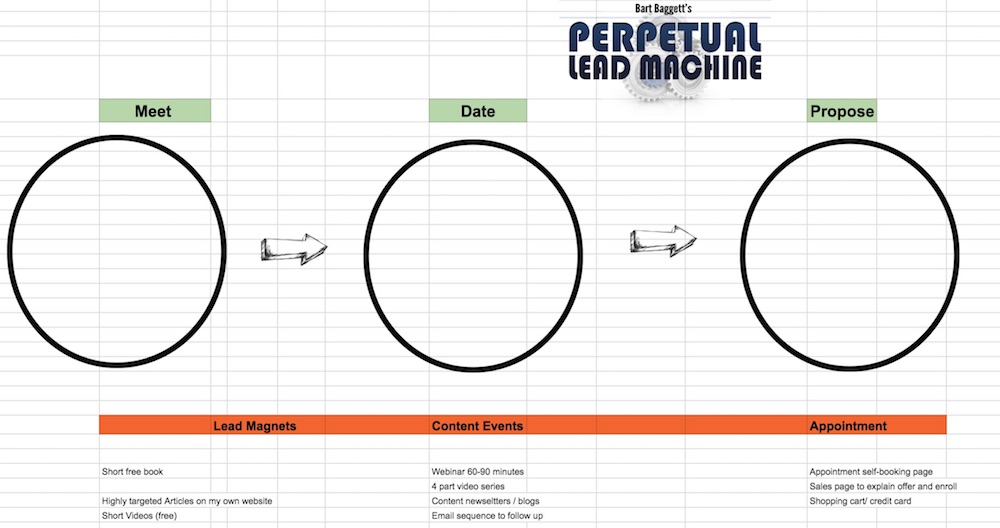 So on the screen you have a diagram which explains the three circles of the relationship journey.It's all about getting people to know, like, and trust you through online content marketing.
Let's use the metaphor first, before actually deep diving into the images.
So for many of us, we kinda all start it of single, some of this is outdating, some of this. Are married. But we've all started off single and how you actually get to the proposal is that you meet someone, you kinda talk to them, you may exchange numbers then start dating, you get to know one another and then you think, Actually what I wanna spend my life with this guy or this lady and then you get to the proposal stage.
In terms of getting our clients for that high ticket item we're doing the same thing. So where we've got the meet over here a lot of our potential clients have no idea that we exist. At the moment.
And so the first step is to say, hey, I'm here.  "This is what I can do for you. This is how I can solve your problems."
This will be the content that people can digest when not speaking to you in person. This will be our books, our webinars, our articles and videos.
You can use any for of paid or free traffic.  Google AdWords. Facebook. Taboola. SEO.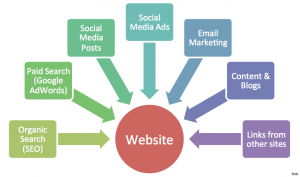 And that gets us in front of people who don't know us yet.
They might think, "I'm not attracted to you enough. I'm not interested in what you've got to sell.  And that's fine. It's like dating.  Not everyone is going to be a match.
But there will be some who love everything about you.  They will want to find out a little bit more of what we do. That is when the move to the dating phase and start really checking you out, opening your emails, and liking your posts.
Now, sometimes they will think, "This is great. This is what I want to do.  I want to work with this person."  
That person will make a purchase straight away.Some are a little bit more tentative, and they take their time to get to know you.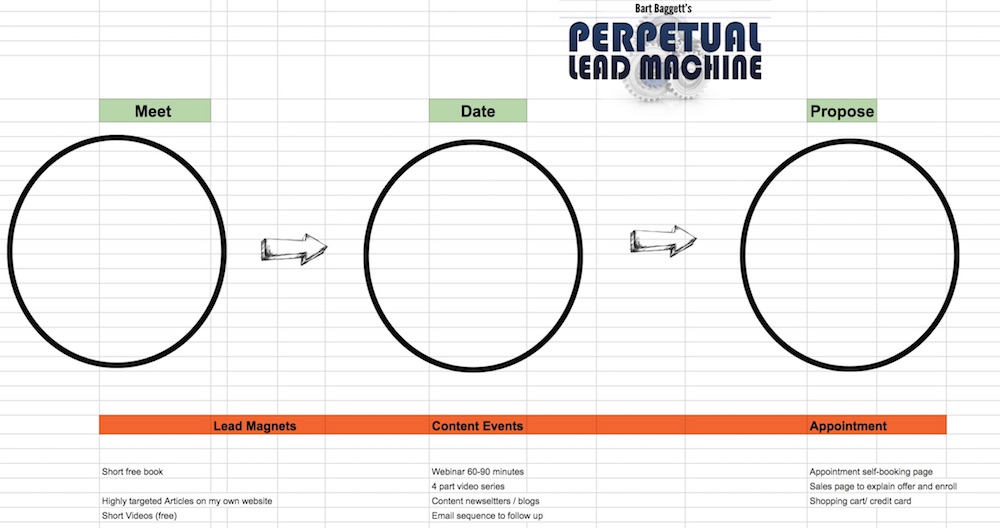 Perpetual Lead Machine is a trademarked term used in Bart Baggett's online lead magnet course Perpetual Lead Machine. 
That is how most people on this call ended up working with Bart Baggett. This is probably true of most experts, consultants, and influencers.
"I went onto his website and saw the big ticket item.  I was like I don't know if I'm ready to invest is someone I don't know yet.  He could be a charlatan, he might not know what he's doing, I'm not sure about him or his company.  This is the way everyone thinks, nothing personal.And so I went in for the lower offer just to test out the quality.  I want to feel the quality of see his special system firsthand. And then the more I got to know his teaching style and quality of products, I was thrilled to have discovered him. I ended up purchasing the larger home study course.  And, I was also thrilled with my purchase." -Noona, UK
The majority of our potential clients will be somewhere between skeptical browsers or curious fans.
The more content you can offer them to consume.. like a webinar, articles, or video series… the more likely they are to engage in a financial transaction.  Money is the ultimate vote of confidence.
So we've got the three stages here in the diagram.
The first one is to meet. They need to see you and ask to stay in touch.
The second is to date.

 

So they can be assured we know what we talk about that we've got a quality product.
The third is your proposal where we actually ask them to do business with us and begin the relationship for real.
And so, underneath the meeting part, which is people meeting just like dating in real life.
EXAMPLE:
You're in the eyeglass center at Costco and you meet  cute single woman. "Hi! how are you doing my name is James.  Good to meet you. What's your name?  That's the meeting phase."
What does it take to go from the meeting phase to the dating phase?

"Well, we exchange numbers. "

"You exchange numbers, right? What if you failed to exchange phone numbers?"

"We would never see each other again."

The whole point of marketing is, when people meet you, is they somehow have to exchange contact information. If you can't get a hold of them again, how are you ever going to go on a date with them?

"You've got a point."
This is why "branding" is a wasteful marketing methodology for a small business or individual consultant.  Billboards can collect phone numbers.
So part of all of the things in the area called lead magnet, L-E-A-D, lead magnetf. It magnetizes people to you.
But the lead magnets do not exchange phone numbers unless you ask for their phone number, email, or you do something called pixel P-I-X-E-L or retargeting.
So everything we're talking about in the first circle is to get people to know you.
And that's a whole different bunch of activities than it is to date your customer.
And it's a different set of activities to ask them to do business with you, which is a proposal.
And after the proposal, then you basically do the relationship.  Teach, sell, coach, delivery the service, etc.
So I've tried to simplify this idea of a funnel into three simple steps.
Part of my job as your marketing consultant is to make sure that my clients understand knows which quadrant she is working on and why.   Because writing a short book or getting on television is not the proposal.
And so she knows that if she put all of this energy into being on 100 radio shows or podcast… that is not going to get her 100 high paying clients. That is not the proposal phase.
That is the meeting phase.
And so if you do a radio interview and you don't give out your phone number or your website, it's like hanging out at Costco all day, meeting people, and never asking for phone numbers or giving them your business card.  It might have been a fun day, but it won't pay your mortgage.
There's really no use to it.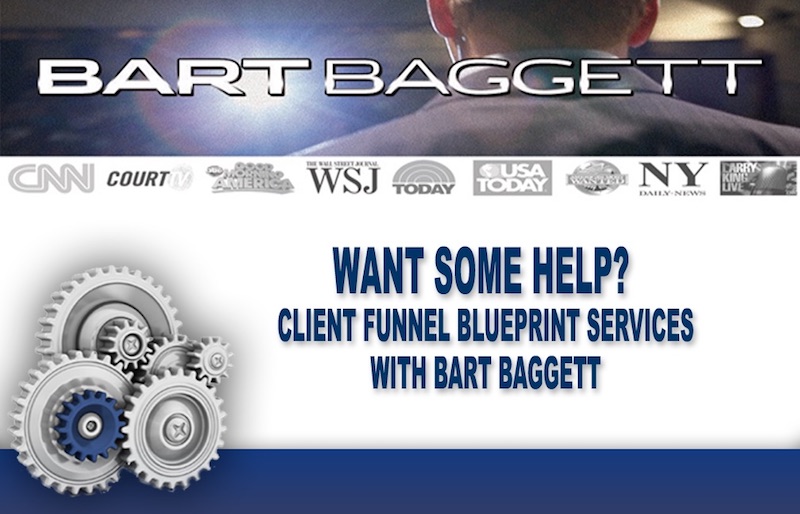 Article by Bart A Baggett. Founder of the PRISM marketing agency and author of the Client Blueprint Funnel system.
http://clientblueprintfunnel.com