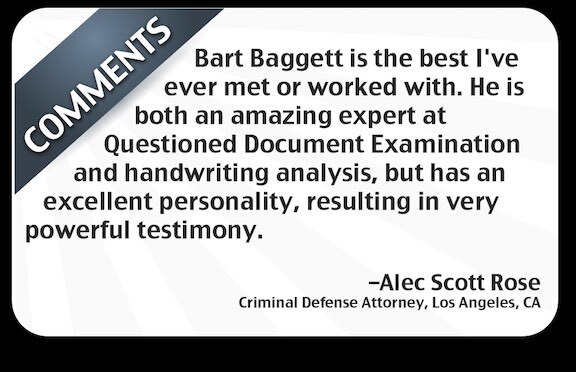 If you are an attorney or you have a legal situation that involves handwriting analysis, forgery or a questioned document, we can help.
If your case involves any of the following issues, call our office right away for a short initial consultation.

Handwriting Analysis forgeries.


Last Wills and Testament, Trusts, Allonges


ProbateDocuments


Contracts and Signatures


Ink and Paper testing


Handwriting Analysis


Forged Checks


Threatening Notes & Letters


Dandwritten slurs on a wall


Suicide Notes


Theft of Real Property, Deeds, Real Estate Fraud


Disguised writing and handwritten notes


Prenuptial Agreements


Attorney Consulting


Courtroom Exhibits& Jury Testimony


College Handwritten Final Exams


Deposition Reviews & Strategy


And Much more.
Call Toll Free. 1-800-980-9030
While we can never promise our "official opinion" will be the exact opinion that supports your legal position… you can guarantee the professionalism, the experience, and the in-depth knowledge... so you know what the evidence reveals and what can be proven in court.
In many cases, hiring a high profile celebrity "expert witness" can help your case.… even if the official opinion itself does not support your position, the expertise and status of having retained such a high caliber expert has it's advantages as the trial date moves closer. You can retain Mr. Baggett as an expert witness or consutlant on your case. Designation and disclosure is optional.
And quite frankly, why not hire a famous handwriting expert who has been on more TV & radio shows than any other handwriting analysis expert in the United States? Mr. Baggett is CNN's handwriting expert... he should be yours, too.

Outside of the media spotlight, Mr. Baggett has over 25 years of experience in handwriting analysis from handwritten items, forged checks, and medical files. He has been hired by attorneys in civil cases, criminal cases, from small claims court to the Federal level.
Mr. Baggett is part of a network of highly trained handwriting analysis experts nationwide that have testified in all 50 states, foreign countries and years of experience. In fact, if you speak to our clients (attorneys and individuals), they will tell you that our testimoney and professional written declarations has led to settlements, jury decisions, and even appellate decisions in their clients favor. The fact is... hiring the right forensic handwriting analysis expert can help you win your case and is one of the most important decisions you will make. Talk to us first, so we can give you professional guidance. This is our expertise.