Your Grand Slam Offer
Watch the Replay and Take Notes
Last class, we discuss the 3 key strategies for making a compelling offer using Alex Hermozi's Value Equation.  Our goal is to build a custom offer (that only you or your company sells) that is so attractive people feel stupid for saying 'No'.
He has 573K subscribers to his youtube channel and has built a company worth over $100 million dollars in the past decade.  I would say he might have some insight into the structure of a good offer along with the easy way to deliver it at the highest possible profit.
This "offer building process" is based on the new book by Alex Hormozi which publishes all his entry-level stuff for free or very cheap in order to build his audience as wide as possible.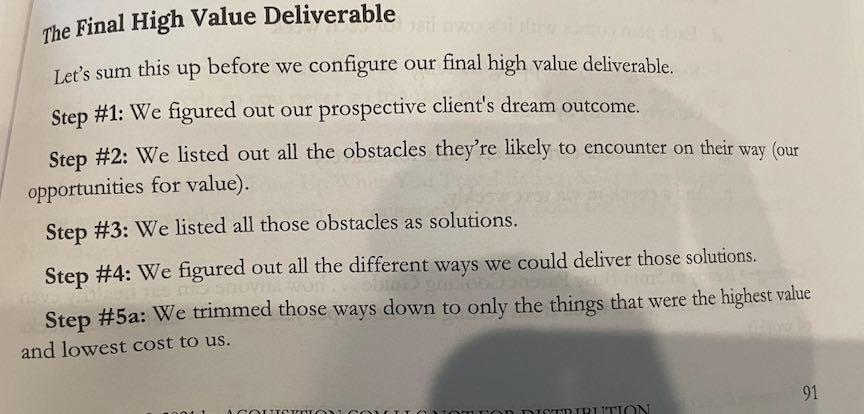 Before you attend the next class, it is STRONGLY ENCOURAGED that you watch all his free video series (nothing to sell/ no op-tin required) and watch the November mastermind class if you missed it.  Also, please buy the $1 book on Amazon or download the Audible Audiobook before class.  Come to the January class ready with your best offer.
https://www.youtube.com/watch?v=NA61omfYgvI
https://www.acquisition.com/training/offers
Amazon –> https://www.amazon.com/100M-Offers-People-Stupid-Saying-ebook/dp/B099QVG1H8/r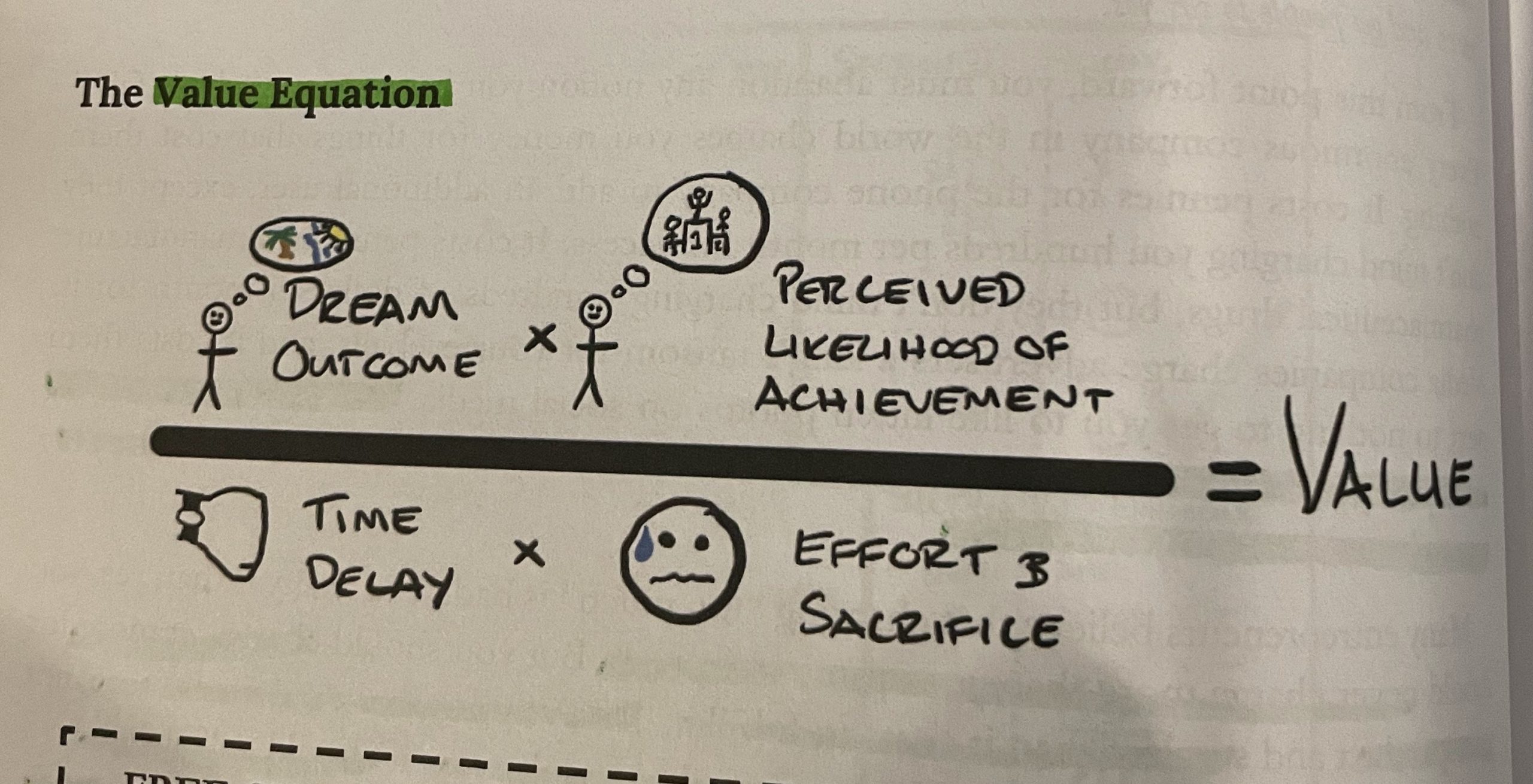 During the class, we will break down and analyze more "grand slam" offers and help you build your own.  By this class, you should have a Grand Slam offer and how listed ALL the possible objections for your client to fail to achieve their "dream outcome".  Once we have those objections, we can solve these problems as a group.
If you are stuck ask yourself these two questions (which were asked during the November class)
1. If your ideal client were to offer you 1 Million dollars to really solve their biggest burning problem… name every possible method you know of in order to help them solve that problem.
2.  Once you have identified the "cost is no object" method of solving that problem, narrow down the list of those "action items" you are willing to do or willing to "hire someone to do" in order to give your client the highest chance of success at getting your client his/ her desired dream outcome.
3.  List the obstacles that might occur (regardless of price) that might get in the way of your client getting their ideal outcome.
Come to class with answers to the above questions.
If you are starting out with a new offer,  think about these two models of pricing and delivery:
Easy to sell —> hard to fulfill
Example.  $100 for a new $100,000 New Mercedes Benz
Hard to sell —> easy to fulfill
Example:  $100,000 for a $20,000 Used Mercedes Benz
Here is an easy way to create massive value for any type of SERVICE or COACHING business.
If I wanted to provide a one-on-one solution I might offer… 
If I wanted to provide a small group solution I might offer…..
ie: grocery shopping example. 
1-1, small group, 1- Many
DIY, DWY, DFY. (Do it Yourself, Done With You, Done For You.)
Support
Consumption
Speed and convenience
10x & 1/10th test.  (see Alex's video for this)
Case Study #1 : Offer Life Coaching Services or Life Coaching Certification Training.  Life Coach School.  $10 Million + annual revenue. 
One offer we will discuss is from one of Alex's friends and one of the most successful people offering "Life Coaching" Services.  Brook Castillo talks about her offers for Life Coaching services and Life Coaching Certificates in her podcast and even offers a transcript of her podcast where she takes 22 minutes to convince her listeners to read his book. The real gold is found at her JOIN PAGE where the offer is pretty easy to spot.
Read it here and let's discuss it during class.
Offer One: Get a taste of coaching.  $297/ month
Offer Two:  Become a Certified Life Coach $18,000 or $3000 for 7 months ($21,000). This is how her business generated over $10 million a year.
See the Sales Brochure here in PDF format. Download and save for future research.
HTTP://www. thelifecoachschool.com/join/
You can start your coaching journey, which includes private one-to-one 20-minute coaching call  each week, for just $297 per month.
We encourage you to join RISK FREE and try out a session. If for any reason you don't like the session, you can send us an email and we will refund you immediately. No questions asked.
In addition this guarantee is better than free. You will get immediate access to the following once you sign up for coaching.
Our entire product suite of courses (valued at $12k) This includes Stop Overeating, Stop Overdrinking, Self Confidence, How to Make More Money, How to Change What is Possible in Your Life, Relationship Mastery and 16 additional courses.
Access to daily group coaching classes where you can see people be coached and also raise your hand to be coached.
Ask a Coach Forum where you can asked to be coached anonymously on any topic in writing-you can also read other people's coaching for insight into your own life.
All of Brooke's books and workbooks.
But don't take our word for it. Enroll in Get Coached now and see for yourself. Look around on the site and see all the courses and books you get immediate access to, book and try your first coaching session, and download an audio from the private podcast to listen to on a walk or when you drive in the car.
It's a risk free offer we are giving you because we believe everyone needs and can benefit from a life coach and we want you to see how much we mean it.
Get your private, no risk coaching session today.