This is a list of websites, links, associations, and resources designed specifically for professional speakers who already have a professional speaker's kit and a clearly defined message and speaking topics.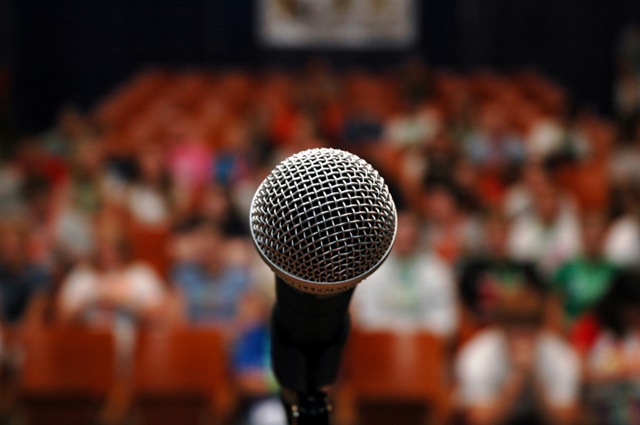 This list of associations, organizations, and websites was compiled as a Bonus Resource for our Marketing Mastermind Members who want to expand the number of speeches they give each year, sell more books and courses, and reach more people with their message.  If you are not a Marketing Mastermind Member, apply for membership today.

Want to hear an audio overview of how to best use this directory of meeting and event planners?  Just click the play button and hear Author and Speaker Bart Baggett give you some tips on utilizing this page:
Get to Know Your Meeting Planner
Before you begin calling, snail mailing, or pitching yourself to meeting planners, consider attending a convention and really understand who they are as individuals and what type of person becomes a professional meeting planners.   Once you understand their motivations, you will be able to connect with a high level of respect and rapport. Remember, when booking paid lectures, the meeting planner is YOUR CUSTOMER, not the audience.  All your marketing material has to sell the meeting planner, not impress the audience.  The audience will never see your Speaker Flyer.
Here are some facts you might want to know about the average meeting planner in the USA.
Experienced, salaried meeting producers can earn from $40,000 to $75,000 per year.
Nationally, the average salary for independent planners in 2000 was $60,230. (The Meeting Professional)
However, the person you might be pitching could be making a lot less:
According to the 2001 Wage and Benefit Survey of Southern California Nonprofit Organizations, entry level non-supervisory ("D") development coordinators (including special events planning and coordinating) earn a median of approximately $27,500 per year. Level "C" non-supervisory development coordinators earn from approximately $31,200 to $39, 200 with a median of $34,200 per year.
In other words, realize that your "speaking fee" might be the same amount as this person's entire month's SALARY… so put that into perspective when framing your fee structure, your "free books", and your travel time.  Be sensitive and appreciative. This person who makes 1/10th of your annual salary has the power to write you a check for $15,000…. if she likes you and goes to bat to book you.  Build relationships.
Directory of Associations, websites, and Organizations with members who can hire you to speak:
Professional Convention Management Association  http://pcma.org/
http://pcma.org/connect-and-grow/chapters#.U5nD0S_rCzA  (Local Chapters)
International Society of Meeting Planners   http://www.ismp-assoc.org
Meeting Planners International   http://www.mpiweb.org/  (Find the local chapters in your area.)
(Review these two PDF files and get to know the members)
http://www.ismp-assoc.org/documents/Professional_Meeting_Planners_Start_Up_Guide.pdf
http://www.ismp-assoc.org/documents/ISMP_Application_Web.pdf
American Society of Government Meeting Professionals  http://www.sgmp.org/
*  Note. I  spoke at the ASGMP at one of their annual conferences over 14 years ago. This one lecture resulted in over 22 solid written testimonials on company letterhead and many other bookings.  It is a great place to showcase your keynote and the audience is filled with nothing but people who can hire you for future lectures
Association of Meeting Professionals  http://www.ampsweb.org/
Event Planners Association  http://eventplannersassociation.com/meeting-planner-association-professional-meeting-planners-corporate-meeting-planners/
Association of Meeting Professionals  http://www.ampsweb.org/
Event Planners Association  http://eventplannersassociation.com/
International Society of Meeting Planners  http://www.ismp-assoc.org 
http://www.ismp-assoc.org/documents/Professional_Meeting_Planners_Start_Up_Guide.pdf
Destination Marketing Association Marketing / Association of Convention and Visitors Bureau http://www.destinationmarketing.org/

Western Association of Convention & Visitors Bureaus  http://www.wacvb.com/
Texas Association of Convention and Visitor Bureaus  https://www.tacvb.org/
Los Angeles Convention and Visitors Bureaus
http://www.discoverlosangeles.com/tourism/membership/member-benefits
Find The Convention and Visitors Bureau in your area
Google Search: https://www.google.com/search?q=convertion+and+visitors+bureuas+association
Hospitality Sales and Marketing International http://hsmai.org
International Special Events Society  http://www.ises.com/ 
http://www.ises.com/ises/participate/calendar
Society for Human  Resource Management  http://www.shrm.org/Conferences/SpeakerInformation/Pages/default.aspx  http://www.shrm.org/Conferences/SpeakerInformation/Pages/CallsforPresentation.aspx
Association News  http://www.associationnews.com/
World Chamber of Commerce Directory  https://www.chamberofcommerce.com/chambers
International Public Management Association for Human Resources  http://ipma-hr.org/
Hospitality Sales & Marketing Associations http://hsmai.org
Meeting Conference          http://www.meetconference.com/ 
Finance and Insurance conference Planners  http://www.ficpnet.com/
International Association of Venue Managers  http://www.iavm.org/
National Association for Catering and Events http://www.nace.net/
National Coalition of Black Meeting Planners    http://www.ncbmp.com/welcome.asp
Christian Meetings & Conventions Association  http://www.christianmeeting.org/custom/suppliers/planner_list.cfm
Other sites you might find useful once you have have the skill-set to use direct mail or exhaust the above resources:
Global Travel Association  http://www.gbta.org/Pages/default.aspx
American Society of Associate Executives  www.asaenet.org
The Learning Annex  http://learningannex.com/sell_your_expertise
Successful Meetings    http://www.successfulmeetings.com/
See Calendar for upcoming events  http://www.successfulmeetings.com/calendar.aspx
Meetings & Conventions Magazine  http://meetings-conventions.com/
The Center for Association Leadership
http://www.asaecenter.org/
http://www.asaeannualmeeting.org/registration_information.cfm
GCG Event Partners  http://gcgeventpartners.com/
Continuing Education Inc.  (Speak on Sea Cruises)  http://www.continuingeducation.net/
Example:  http://www.continuingeducation.net/schedule.php?profession=Attorneys
Cruise Lines International Association
http://www.cruising.org/pressroom-research/cruise-industry-source-book/facts-about-clia
http://meetingsnet.com/event-planning/speakers
Meeting News   http:///meetingnews.com
Convention Industry Council
http://www.conventionindustry.org/cmp/cmpprogram.aspx
http://speakermatch.com/    (You can add your speaker profile here)
http://www.iasbweb.org/   International Association of Speaker's Bureuas
DIRECT MAIL TO MEETING PLANNERS
Here is another place to buy a mailing list of meeting planners for about $1500, minimum:
American Meeting & Event Planners Email List http://lists.nextmark.com/market;jsessionid=53ADB6BE7961A19C8CED2574298F08D9?page=order/online/datacard&id=293837
10,000 NAME MINIMUM ORDER $1,500.00 MINIMUM PAYMENT
KEY SIC CODES:
738944 – EVENTS-SPECIAL  ?874206 – PLANNERS-PROFESSIONAL  8742 Management Consulting Services
http://www.meetingmailer.com/sample/anamarianotes.htm
An email list for purchase emailed exclusively to Key Executives in the Meeting Planner and Travel Incentive sector of the travel industry.  This is best use for hotels and travel companies.  A speaker flyer might stand out, and it might be a total waste of money.  Here are samples of the kind of one-sheet flyers they people on the list are used to seeing.  Market to this list with precision, it is not a perfect match of message to market:
http://www.meetingmailer.com/sample/sample-pueblobonito.htm
http://www.meetingmailer.com/sample/sample-scottsdale.html
http://www.meetingmailer.com/sample/sample-hilton.htm