Bart Baggett
Speaker,  Author, Handwriting Expert, Marketing Consultant
Handwriting Experts Headquarters
15233 Ventura Blvd Floor 5, Sherman Oaks, CA 91403
1-323-544-9277 x 9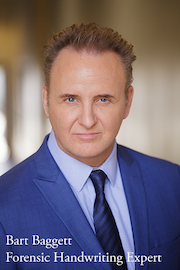 Business email:  handwriting experts @  yahoo .com
Want to schedule an appointment:  https://handwritingexpertusa.com/contactus.html
Media Kit / Press Kit       http://myhandwriting.com/media/
Speaker Reel and Key Note Lectures:  https://bartbaggett.com/speaker
Enroll into the International School of Forensics https://internationalschool.us
Document Examination and Forensic Expert Witness Services        http://handwritingexpertusa.com
Sales and Customer Service for Books and Products
Information Page / Contact Page  1-310-684-3489 Ext. 2
India support team: +91 974 501 1322
Connect Through Facebook – Official Page
https://www.facebook.com/bartbaggett/
https://www.instagram.com/bartbaggett/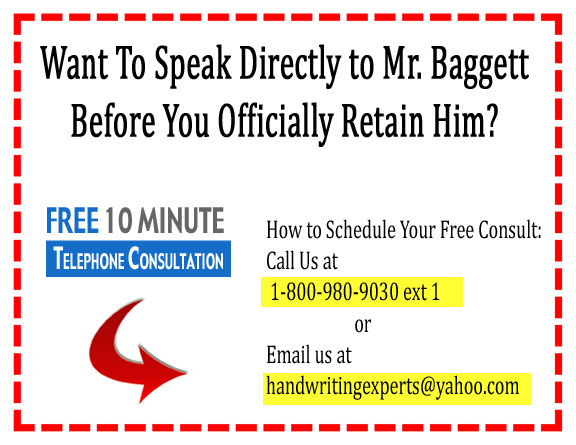 Los Angeles Office
323-544-9277
San Francisco Office
415-324-8780
Las Vegas Office
702-996-0911
St. Louis Office
314-219-7822
New Mexico Office
505-591-7909
Miami Florida
305-459-1544
Please call or email your questions to our office right away.
You can discuss details relating to your case and discuss any unusual circumstances which might be important to disclose. We do a quick conflict check and you can tell us about your situation. While you might not hire a handwriting & document examination expert every month… that is the only cases we handle. We have probably seen a case like yours and can offer some advice.
Mr. Baggett has invested years of training in order to have his team answer your questions and work with clients while he is "in court" or " on assignment". Call our office and trust you are in good hands when you are speaking directly to him or to his office staff.
Call our office directly and get your case started..
Call Toll Free. 1-800-980-9030 Extension One