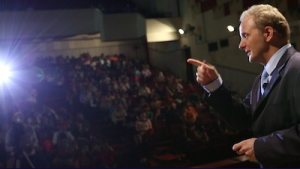 Bart Baggett has become much more than an internationally recognized handwriting expert and professional speaker. He has become an entrepreneur influencing the media world, publishing industry, legal decisions, and the community of  though leaders worldwide.  Bart owns 4 businesses and even makes time to appear in feature films  and scuba dive once or twice a year.
A graduate of Pepperdine University, Bart is a court qualified forensic document examiner who's seminars and books include Grapho-Therapy, Time-Line Therapy, and Neuro-Linguistic Programming into a multi-dimensional approach to human transformation.
Bart is the Founder of Handwriting University.com, which trains and certifies handwriting students worldwide. He is also a highly sought after professional speaker and talk-show guest. Bart is the author of five books including the Amazon #1 Best Seller The Magic Question, Introduction to Handwriting Course Level 100 , Handwriting Analysis 101, and his 402 page self-help book: Success Secrets of the Rich & Happy – How to design your life with financial and emotional abundance.
Below is a recent talent reel highlighting Mr. Baggett's expertise in Forensic Handwriting Analysis.  In the last few years, he has been seen on the stage speaking to audiences from the UK to Mumbai for both business audiences and personal development.  He is a frequent guest expert on legal documentaries, news programs, and investigating journalism at the highest levels.
In addition to his writing, lecturing, and training, Bart has gained national attention by appearing on over 1500 radio and TV shows, including Larry King Live,  CBS This Morning, The Today Show, CNN, National Public Radio, CNBC, Montel Williams, Leeza, Fox News, America's Most Wanted,  and even  the Howard Stern Show.  Bart has become a personality expert for talk shows and commentators nationwide.
He has been featured in dozens of newspapers and magazines worldwide including the The Wall Street Journal,USA Today, The New York Times,Dallas Morning News, Biography Magazine, Forbes Small Business, Family Life, Soap Opera Digest, Plano Star Courier, Kansas City Star, Vent, Stuff, London Times, Bangalore Times, and many others.
His writings have been published internationally. He has publications in Mandarin, English, and Hindi. He has authorized trainers in India, Taiwan, Singapore, Australia, and South Africa teaching his authorized curriculum.
For additional personal information, please call his US office at:
Tel: 1-310-684-3489 ext 9