Finding the Perfect Valentine using a Stroke of the Pen
FEATURE STORY: "Finding the Perfect Valentine using a Stroke of the Pen" by Bart Baggett
"Everyone NEEDS this knowledge. I'll never date or hire anyone ever again without analyzing the handwriting."
FEATURE STORY :
Finding the Perfect Valentine using a Stroke of the Pen -by Bart Baggett
Anyone can unlock the secret to finding their true love using handwriting analysis.
The stroke, slant and depth of a person's handwriting indicates with amazing accuracy personality traits such as stubbornness, honesty, jealousy, dominance, and even violent tendencies.
It's a great tool for weeding out losers and finding someone who is truly compatible with your personality. Handwriting is really brain-writing, projecting the unconscious personality on paper.
Considering the current divorce rate of over 50 percent, getting clues about a person's character should be a prerequisite to any relationship.
Dating without using handwriting analysis is like playing poker with your eyes closed. You might draw a losing hand or a winning hand… but you won't know the difference.
As Valentine's Day approaches those looking to find the perfect mate should heed this advice. Handwriting analysis can help you instantly identify undesirable traits, like dishonesty and jealousy, and keep you from wasting time on a relationship that is doomed from the start.
It can also help you find the traits you do want in your mate, like flexibility, open-mindedness, generosity, and perhaps even a big sex drive.
The following examples are just some clues found in handwriting:
The size of the loop in the letter 'd' will tell you
how sensitive your mate is — a big loop means
they need more compliments.
A 'jealousy' loop at the beginning of a letter
indicates whether you'll get in trouble for
'admiring the opposite sex.'
A person whose writing slants to the right
is expressive and outgoing,
and a person who slants to the left is
emotionally withdrawn and even introverted.
The bigger the loop in the letter 'y',
the bigger the sex drive.
The letter 'O' reveals everything from
how well you keep a secret to whether
you will lie or not.
A t-bar that slants down to the right
means this person has a
need to be in control–
watch out!
Personally, I will not date a woman until I've seen her handwriting. I've wasted a lot of time and heartache on relationships that weren't right for me until I started using this tool.
To find out if you and a potential lover may be compatible, you can complete a 'Handwriting Self-Test' on one of my websites, handwritingwizard.com.
It will give you some basic compatibility traits, as well as the '5 Hell Traits' to watch out for in a person's handwriting from last week's newsletter.
While the use of handwriting analysis is commonplace in Europe, it is just now becoming mainstream in the U.S. About 80 percent of French companies use it to screen prospective employees, while an estimated 8000 U.S. companies now use it as an evaluation tool.
It's amazing that companies will pay headhunters thousands of dollars on finding the right vice president, but some people won't invest 80 bucks and 10 minutes to make sure they're choosing the right life-long partner.
I suggest everyone take a few minutes to learn some of the key handwriting traits so that you can start looking for the perfect Valentine. For more information about handwriting analysis, training, or my books, visit myhandwriting.com or handwritinguniversity.com
FREQUENTLY ASKED QUESTIONS (FAQ):
http://myhandwriting.com/FAQ
Q: What can be told from a person's signature?

 

A: The signature represents what a person wants the world to see or what he wants to be, an image that may or may not be the same as the inner self. Because a signature contains only a few letters, it does not provide enough information for the analyst to make a complete and accurate evaluation.
 

Q: My signature is illegible. What does that mean?

 

A: It means people have a hard time reading your name. Seriously, illegible handwriting can mean a number of things. In general, an illegible signature reveals a desire to be seen but not known, keeping things private.You may want to keep your true identity hidden. It could also mean you are in a hurry. People who continually sign their name all day long often do so in a hurry and, therefore, don't care what their signature looks like. Illegible handwriting in combination with other specific traits may indicate dishonesty, but there are a lot of variables.
 

Q: Why is my signature different than how I write everything else?

A: Because the signature is a badge to the world. It is a representation of what a person wants the world to see about himself. A signature that is different from the rest of his writing says he does not want to reveal everything about himself. There may be some aspect of his personality that he wants to hide, so he creates a new "person" by creating a signature with a different look.
Handwriting University's Membership
Website Now Launched!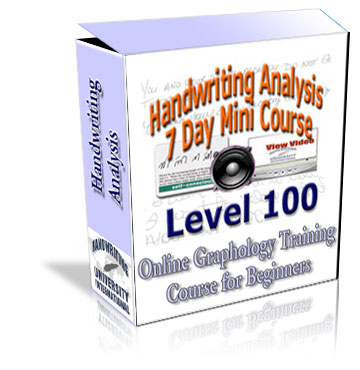 Sign Up Now for our
7 Part Mini Course in Handwriting Analysis.
This membership site contains 7 text, video and audio lessons to quickly learn handwriting analysis via the Internet. Just Released…
STUDENT COMMENTS:
"My Handwriting Analysis Course has had the biggest impact on my life… it was the start of a life transformation. My self-esteem, confidence, creativity, and speed of learning have been dramatically strengthened. The results were quick and permanent. Oh, thank you so much for sharing this information. I recommend it to people everywhere I go!"
– Lisa Marie Allen-Bitner
"I am very happy that I made this investment. I look forward to continuing my education with Handwriting University. The experience has been great, and enrolling in this program has been one of the smartest things I have ever done."
– Brenda Boelhower Student, Dayton, NJ